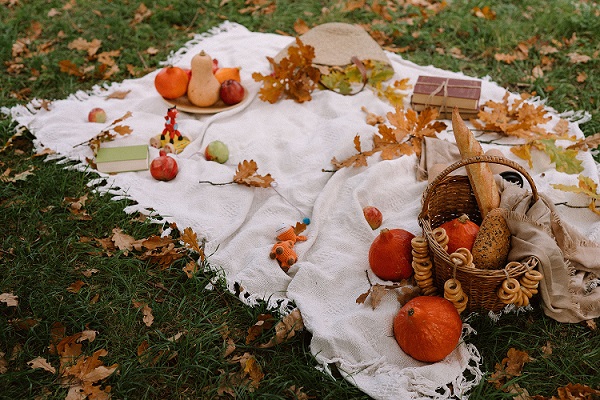 06 Oct

Welcome Autumn
Welcome Autumn:
Embracing the Season of Change



As the leaves begin to turn vibrant shades of red, orange, and yellow, and a crispness fills the air, it can only mean one thing – autumn has arrived! Welcome, Autumn, with your cozy sweaters, pumpkin-spiced everything, and the promise of new beginnings. Explore the beauty and wonder of the fall season, from its breathtaking natural transformations to the simple joys it brings into our lives.
The Splendor of Fall Foliage:
Autumn marks the time when nature showcases its artistic side. The changing colors of the leaves create a breathtaking landscape that draws people outdoors. Take a stroll through the woods or a scenic drive through the countryside to absorb the fiery palette of autumn.
Cozy Comforts:
The arrival of autumn is synonymous with cozying up indoors. It's the perfect season for warm, fuzzy blankets, crackling fires, and hot beverages. Don't forget to enjoy the simple pleasures of snuggling under a soft throw while reading a good book.
Pumpkin Everything:
Autumn wouldn't be the same without the presence of pumpkins. From carving Jack-o'-lanterns for Halloween to savoring pumpkin pies, lattes, and soups, this versatile squash takes center stage. Get creative in the kitchen and explore new pumpkin-inspired recipes.
Harvest Festivals:
Fall is a season of abundance, and communities celebrate it with harvest festivals. These events are an opportunity to connect with local culture, taste delicious seasonal foods, and engage in fun activities. Whether it's picking apples, navigating corn mazes, or enjoying a hayride, there's something for everyone to enjoy.
Wardrobe Transition:
Bid farewell to the breezy summer dresses and say hello to your cozy sweaters and scarves. Autumn fashion is all about layering and embracing earthy tones. It's a time to rediscover your favorite boots and experiment with stylish outfits that showcase your personal style.
Reflection and Renewal:
As the year approaches its end, autumn invites us to reflect on our personal growth and set new goals. Use this season as an opportunity to reconnect with yourself, practice mindfulness, and plan for the future. As always, starting a gratitude journal to remind yourself of the blessings in your life.
Halloween Magic:
Halloween, the spookiest and most playful holiday of autumn, is a time for creativity and fun. Whether you're dressing up in a costume, decorating your home with eerie delights, or trick-or-treating with family and friends, Halloween brings out the child in all of us.
Nature's Bounty:
Autumn is a time for bountiful harvests from gardens and orchards. It's an excellent time to explore local farmers' markets and enjoy fresh produce like crisp apples, pears, and hearty root vegetables. Embrace the season's flavors by trying your hand at canning or preserving.



Lastly, Autumn is a season that gently reminds us of the beauty in closer to the essence of life's cyclical nature. It encourages us to embrace the present, find comfort in simple pleasures, and anticipate the new beginnings that await. So, welcome autumn with open arms, and let its magic fill your heart and home.
Welcome Autumn with Kwest Mortgage!
🍁🍂 Embrace the season's warmth, colors, and cozy comforts. Enjoy this beautiful season with friends and family. 🍂🍁
#KwestMortgage #WelcomAutumn #AutumnLove 
Kwest Mortgage – Where Homeownership Begins!