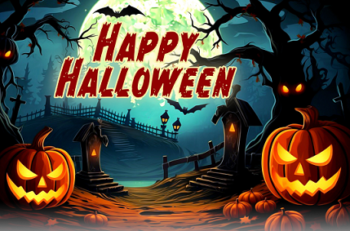 31 Oct

Happy Halloween
Halloween is sure to be a scream!!
As the leaves change colors and the air turns crisp, it can mean only one thing – Halloween is just around the corner! Halloween 2023 promises to be a thrilling and chilling celebration of all things spooky and supernatural. Whether you're a dedicated Halloween enthusiast or just looking for an excuse to dress up and have some fun, this year's Halloween festivities are sure to be a scream.
Costumes That Wow:
One of the most exciting aspects of Halloween is undoubtedly choosing the perfect costume. This year, the options are endless. Classic monsters like vampires and witches are always popular, but there's a growing trend of unique and imaginative costumes that go beyond the usual fare. Expect to see creative mash-ups, pop culture references, and DIY costumes that will leave everyone in awe.
Haunted Happenings:
If you're the kind of person who enjoys a good scare, Halloween 2023 has plenty of haunted attractions in store. From haunted houses that are not for the faint of heart to eerie corn mazes and haunted hayrides, there are endless opportunities to embrace the spine-tingling thrill of the season.
Family Fun:
Halloween isn't just for the thrill-seekers. Families can enjoy a day of pumpkin picking, apple bobbing, and not-so-scary costumes. Many communities organize safe and fun trick-or-treating events, allowing kids of all ages to collect a delightful assortment of candies while showcasing their adorable and imaginative outfits.
Ghoulish Delights:
No Halloween celebration is complete without indulging in spooky treats. From pumpkin-spiced everything to creepy-crawly desserts, Halloween-themed snacks and beverages are in abundance. Don't forget to experiment with your own Halloween-inspired recipes, like mummy hotdogs, witch's brew punch, and spiderweb cupcakes.
Decorate with Fright:
Your Halloween decor can set the perfect atmosphere for your celebration. This year, expect to see a mix of traditional decorations with modern twists. Jack-o'-lanterns, cobwebs, and skeletons are Halloween classics, but you can take it up a notch with smart lighting and projection effects for an immersive, haunted house experience.
Halloween 2023 is gearing up to be a year of unforgettable festivities, where imagination knows no bounds, and the spirit of the season is palpable. From choosing the perfect costume to enjoying spooky treats and creating the ultimate haunted atmosphere, there's something for everyone. So, get ready to embrace your spooky side and make this Halloween a howling success! Whether you're young or young at heart, Halloween 2023 is the perfect time to let your inner ghoul out to play.
Find out what is happening for Halloween in Orangeburg!
https://thetandd.com/news/local/orangeburg-halloween-activities-to-be-held-monday/article_86b95812-6f00-11ee-b61e-5bddad8605e5.html
Get ready for a bewitching adventure!!
#KwestMortgage #Halloween #HalloweenHaunts #HalloweenCountdown #TrickOrTreatTime #SpookySzn
🏡 Kwest Mortgage – Where Homeownership Begins!